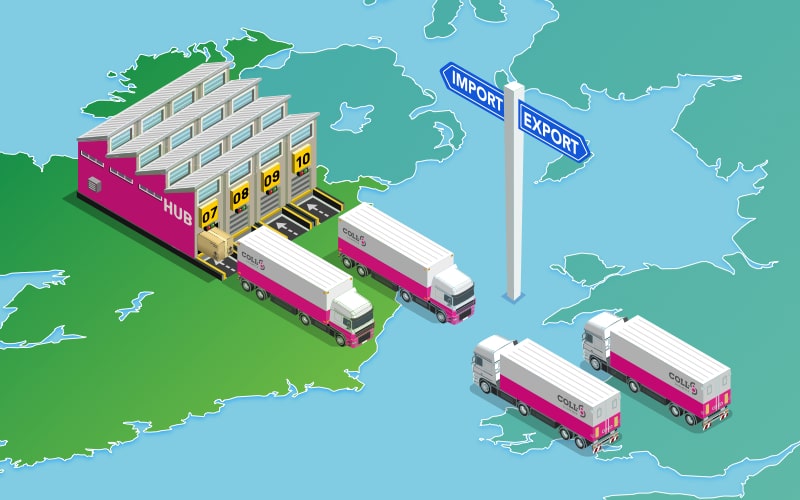 A former British Prime Minister, Harold Wilson, is believed to be first person to have made the observation that "a week is a long time in politics".
It is worth bearing that remark in mind when reflecting on the state of tumult there has been since the UK's historic vote to withdraw its membership of the European Union seven years ago.
Rishi Sunak, for instance, is the fifth different occupant of 10 Downing Street since the Brexit referendum in June 2016.
Whilst upheaval in Westminster has arguably been good news for furniture removal companies, other businesses – especially those involved with commercial partners among Britain's former fellow EU member states – have had to navigate somewhat choppier waters.
Even so, as I've been telling Sarah Collins of the Irish Independent, there are signs that things might be stabilising.
As well as Coll-8's anecdotal experience, gleaned from working with hundreds of brands both big and small, we now have comprehensive official statistics to bear that assumption out.
That follows the publication of figures by the UK's Department for Business and Trade on overseas' trade.
They reveal a number of interesting elements, not least the impact of the decision by some UK brands to minimise their exposure to the delays and the cost associated with shipping out of the UK by 'offshoring' products – moving goods to territories, such as the Netherlands, which are still within the EU.
The practice has become known as 'the Rotterdam effect' and has seen the Netherlands become the UK's second biggest export market for goods in the 12 months to the end of June.
We only have to look at fourth place in the same list to see another notable development.
Ireland now accounts for the consumption of £30.3 billion (€35.4 billion) worth of goods exported from the UK – more than France, China and India.
That is not just despite having a much smaller population than any of those countries but taking into account the additional customs checks put in place as part of the trade deal between the EU and the UK.
The picture is even more dramatic if we look at the total value of all trade – up by 59 per cent since 2016.
There is no doubt in my opinion that firms initially regarded Brexit as a considerable headache.
Yet whilst some effectively wrote off trade with Ireland and other EU member states, others recognised placed a premium on trying to find a solution.
It was a point which we recognised back in 2021 when we launched an automated customs
clearance system – a major advance on the paper-based process which had deterred so many UK brands looking in particular to exploit Ireland's status as one of Europe's fastest-growing e-commerce markets.
As a result, we now average more than 40,000 clearance documents every day – far more than any of our competitors.
Those British firms which persisted are reaping the rewards and are seeing the sort of increase in Irish sales recorded by officials in both Dublin and London.
There are still challenges, of course, including the phased introduction of something known as the Border Target Operating Model.
Announced only this week by ministers in London, it has been described as 'a new model for imports'.
By the time that the final stage of the process is due to be completed in October next year, it will mean more change for the declaration of goods heading from Ireland and the rest of the EU into the UK.
"Importers", according to the UK Cabinet Office document summarising the plans, "should already be preparing for the first milestone" – relating to animal and plant products and "high risk food and feed of nonanimal origin" – which takes place in at the end of January.
COLL-8 has undertaken substantial work to ensure that it is fully prepared to help its Irish clients, just as has those companies exporting from the UK to Ireland.
There is every chance that the new rules could impact temporarily on trade between the two countries as firms adapt to them.
However, we are utterly confident that the systems which we have in place will minimise that potential for disturbance and keep business moving swiftly at the border.
To find out more about how COLL-8 can help you adjust, whether you're shipping to or from Ireland, get in touch with our Customer Service experts by e-mail (customerservices@coll-8.com.).