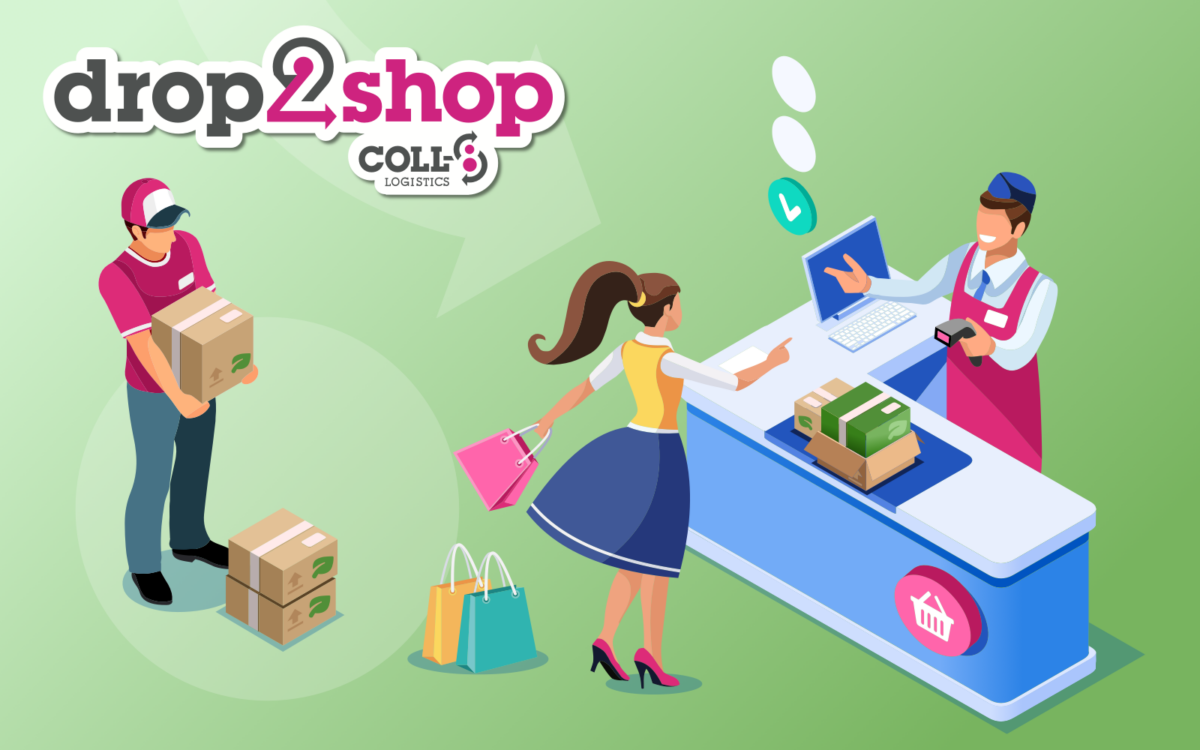 Each year, it seems, brings further confirmation of the degree to which consumers around the world have come to rely on e-commerce.
Yet their increasing familiarity with online shopping has seen the initial novelty of being able to consider an enormous range of retailers on their mobile devices give way to a desire to have more of a say in how what they buy is delivered.
In particular, customers are demanding that brands take heed of the likely impact which various shipment methods might have on the environment.
It is a concern which was integral to the development of COLL-8's award-winning e-commerce platform drop2shop and was apparent even as the enforced closure of 'bricks and mortar' stores across the globe during 2020 drove more people to buy online.
Whilst the restrictions of lockdown have, of course, been eased, recent figures show that the appetite for e-tailing has remained well above pre-pandemic levels.
The UK's Office for National Statistics (ONS) has just revealed that shoppers spent £254 million each week with the country's fashion brands during December – up 47 per cent on the amount three years before.
In the Republic of Ireland, there was a similar increase in the proportion of all retail sales transacted online over the same period.
Even so, shoppers continue to remind retailers and logistics operators of the potential cost to such trade beyond the price of their individual purchases.
Back in early 2020, just weeks before the full economic impact of the coronavirus outbreak started to be felt, the World Economic Forum predicted that "without intervention" parcel delivery traffic to 100 leading international cities would account for 25 million tonnes of CO2 emissions each year.
The Forum also warned that the prospect of 36 per cent more delivery vehicles on the roads would create more severe traffic jams, adding 11 minutes on average to other drivers' journey times.
Those startling findings have been given further credence by new road traffic data published by the UK's Department for Transport showing that the only vehicle classes covering more miles than they did before the pandemic are vans and heavy goods vehicles.
During the 12 months to the end of September last year, in fact, vans licensed in the UK drove a total of 59.5 billion miles.
In Ireland, one of Europe's most vibrant e-commerce markets, the situation is no different.
According to the Central Statistical Office (CSO), Irish road traffic volumes involving vehicles of all types rose by almost 16 per cent during 2021.
Furthermore, the CSO stated that a total of 154.9 million tonnes of goods were carried by logistics companies that year, an increase on the number 12 months before.
Although a considerable proportion was shipped between business premises, it's worth remembering that 6.1 million tonnes were delivered directly to consumers' homes.
That handling deliveries and returns damages the environment is deeply troubling to shoppers and shippers alike.
A number of surveys have illustrated how consumers are factoring the issue of emissions into decisions about how they receive their online purchases.
When we launched drop2shop, we did so in partnership with BWG Foods, the owner of Ireland's market-leading convenience store brands, including SPAR, MACE, Londis and XL.
As a result, we don't need our own dedicated vehicles but are able to capitalise on the same BWG fleet of vans which service the very drop2shop partner stores at which consumers can pick up or drop off their online orders.
The BWG fleet also includes the largest contingent of CNG (compressed natural gas) powered trucks in operation in Ireland.
All that means that drop2shop has been able to offer fast, secure and paperless e-commerce deliveries and returns nationwide at the same time as reducing its carbon footprint by more than one million miles and 150,000 tonnes of CO2 emissions over the last year.
Being able to demonstrate how we have integrated environmental innovation into our business strategy is one reason why COLL-8 has seen a doubling of the retail clients using drop2shop within the last 12 months.
It is also why drop2shop has been shortlisted in the Green Impact category of the prestigious Irish Logistics and Transport Awards this year.
E-commerce logistics companies naturally want to be successful businesses but we believe that we also have a responsibility to do our bit to limit how we might possibly effect the planet.