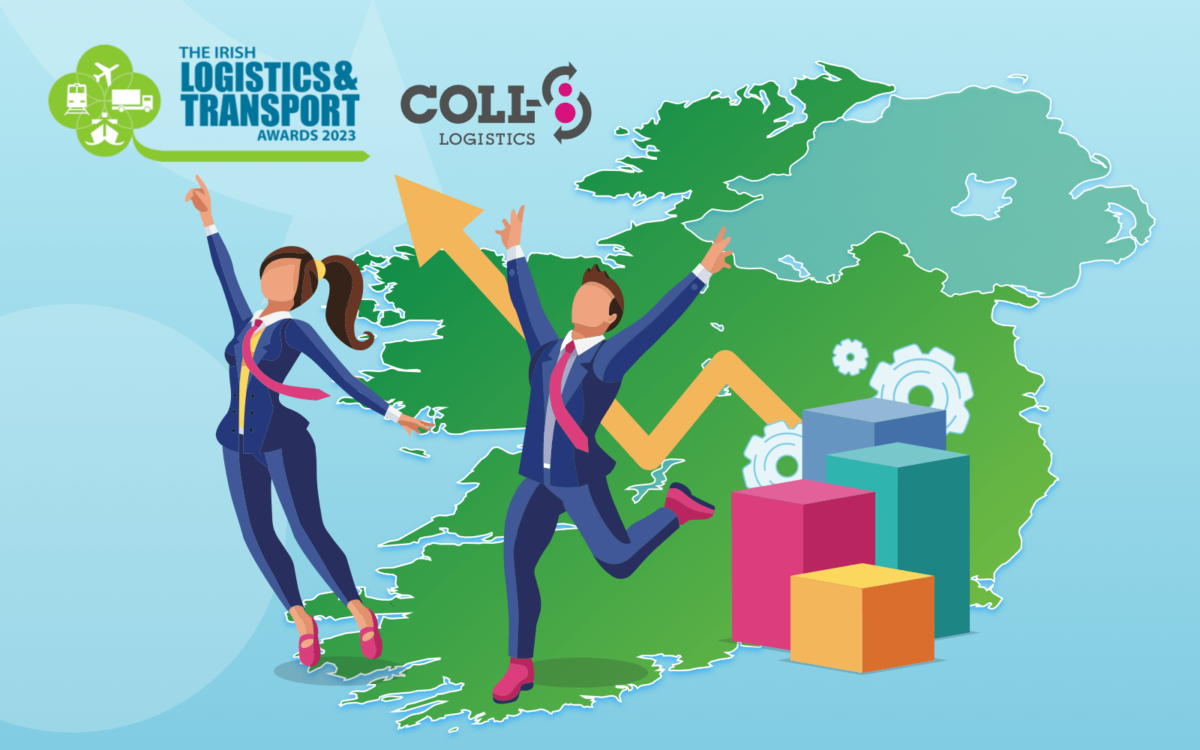 A year of "unprecedented growth" has left one of Europe's most dynamic logistics companies in the running for a series of prestigious logistics industry awards.
COLL-8 Logistics has been shortlisted in four categories of the Irish Logistics and Transport Awards (ILTAs).
They include nominations for its in-house IT division, its development of unique platforms to simplify the post-Brexit customs clearance process and VAT reclamation, and its work to improve the efficiency of parcel shipments while protecting the environment.
Founder and Chief Operations Officer, Dave Field, described the recognition as a "fabulous tribute" to the breadth of COLL-8's operations.
"It has been something of a whirlwind last 12 months for all of us and to know that our industry peers see merit in the progress which we have made is fantastic.

"There are lots of individuals who have contributed to the momentum which we have built up.

"Making the shortlists for so many categories demonstrates the ingenuity and depth of talent within the business.

"It also underlines our capabilities across the very areas considered vitally important to companies looking to overcome the challenges to building trade with Ireland.

"We are up against some other incredibly vibrant firms in all of the ILTA categories but our fingers are crossed."
Launched in 2010, the purpose of the Irish Logistics and Transport Awards is to "celebrate excellence in the logistics and transport sector and to encourage teams and individuals to constantly raise the bar".
COLL-8's Customer Focus Achievement Award shortlisting follows a year in which it not only saw the continued expansion of its drop2shop system of parcel deliveries and returns but a further rise in adoption of its custom clearance platform.
During the pre-Christmas peak parcel season, COLL-8 was handling more than 60,000 customs declarations per day, significantly more than any of its rivals.
Last year, the company also unveiled a system to help e-commerce companies reclaim VAT and duties paid on goods shipped to Irish consumers and later returned.
Mr Field said that the issue was costing leading brands millions of pounds each year.
COLL-8's other nominations include the Green Impact Award, a response to drop2shop's avoiding 150,000 tonnes of CO2 emissions by virtue of not operating its own fleet.
The company has also received nods for its innovative use of technology to further its service to clients and consumers, and is one of six firms in the running for the Logistics & Transport SME Company of the Year title.
Last month, Mr Field revealed that COLL-8 had seen turnover, client, employee and depot numbers all at least double in the space of the last 12 months.
It recently opened two new facilities – a 35,000 square foot depot at Blanchardstown, Dublin, and a 15,000 square foot cross-docking site at Runcorn, Cheshire, to consolidate shipments to the Republic.
That has led to staffing levels across all three of COLL-8's offices, including its head office at Baldonnell, doubling from 42 to 80 since August.
The developments have been warmly appreciated by clients. One – the SMP Group, which is among Britain's leading print and marketing communications specialists – said that Coll-8's service was "second-to-none and unequalled for UK to Ireland shipments.