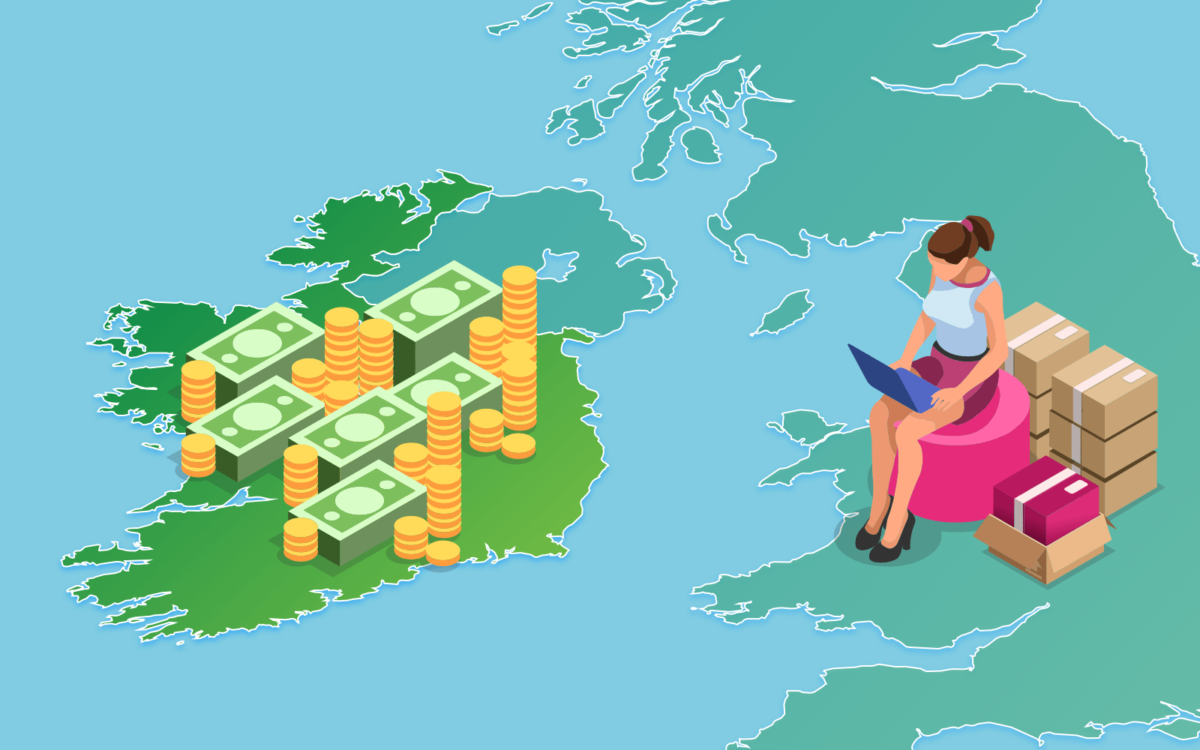 The strain of handling a growing volume of e-commerce returns is being compounded by a tax 'oversight' which is costing UK retailers millions of pounds each year.
Research by a leading e-commerce logistics company has concluded that many brands are failing to reclaim VAT and duties paid when shipping goods to the Republic of Ireland.
Dave Field, the founder and Chief Operations Officer of COLL-8 Logistics, described how the study identified retailers which had not claimed seven-figure rebates from Irish tax authorities to which they were entitled.
He also outlined that some household brands had blamed their failure to act on the extra administrative burden created by Brexit as well as new VAT rules which came into force last year.
The standard rate of VAT charged by the Irish Revenue on e-commerce shipments sent to the country is 23 per cent, while duties can add a further 14 per cent to the cost of delivery.
As much as 40 per cent of footwear and clothing bought online ends up being sent back to retailers – far higher than the proportion of such items purchased in 'bricks and mortar' stores.
Mr Field suggested that the scale of the VAT and duty payments incurred by many retailers had already led some to question whether they should continue selling to Irish consumers.
"Some of the retailers that we've spoken to have actually been astonished to learn that they can reclaim VAT and duties on returned goods. Others know that it's possible but don't realise exactly how it can be done.
"There is also a third category of retailers who just don't try to reclaim VAT because of the paperwork involved.
"All have told us how both Brexit and the introduction last year of new European Union rules on the amount of VAT levied on e-commerce purchases has made the process even harder to comprehend.
"For some of them, it seems that these outstanding sums are almost something of a pain threshold which they are prepared to put up with in order to generate extra sales in what is widely regarded as a very lucrative market for online businesses.
"It could be seen as a very costly oversight. Every £1 million of online sales to Ireland racks up VAT payments of £230,000.
"At the sort of returns rate associated with the most popular items bought from UK brands, that means close to £100,000 could be reclaimed but isn't.
"In the last couple of months, a number of retailers have already admitted that returns are affecting their overall financial performance.
"Perhaps unsurprisingly, some regard the VAT and duty costs as a reason for possibly not shipping to customers in Ireland.
"As we have demonstrated, however, reclaiming VAT and duty on returns can not only be done but done simply and that can have a great impact in how they view things."
Mr Field's comments follow the revelation in May by Ireland's Finance Ministry that its VAT receipts had risen by 30 per cent to €6 billion (£5.1 billion) in the space of just 12 months.
The Department also disclosed that income from excise duties – payable by UK retailers since Brexit – increased by three per cent over the course of the last year to €1.7 billion (£1.46 billion).
Further data has reinforced the Republic's position as one of Europe's most vibrant e- commerce markets.
During 2021, Irish consumers spent £6.04 billion (€7.142 billion) online. As well as being the UK's third largest trading partner overall, Ireland is the UK's second biggest export market for fashion – the product category responsible for the highest proportion of returns.
In July last year, the EU scrapped rules which meant that goods worth less than €22 (£19) were VAT-exempt. In their place came new regulations requiring the tax to be paid on goods of any value. The shipment of products costing more than €150 (£135) also incurs customs duties.
COLL-8 Logistics was launched in 2019 by Mr Field, who had previously co-founded the company which went on to become the Republic's biggest independent supply chain business.
The following year, COLL-8 Logistics announced a partnership to roll out its award-winning e-commerce parcel delivery and returns system, drop2shop, across Ireland's largest network of convenience stores.
The drop2shop platform is available to more than 500 online retailers, including leading brands in the UK and further afield.