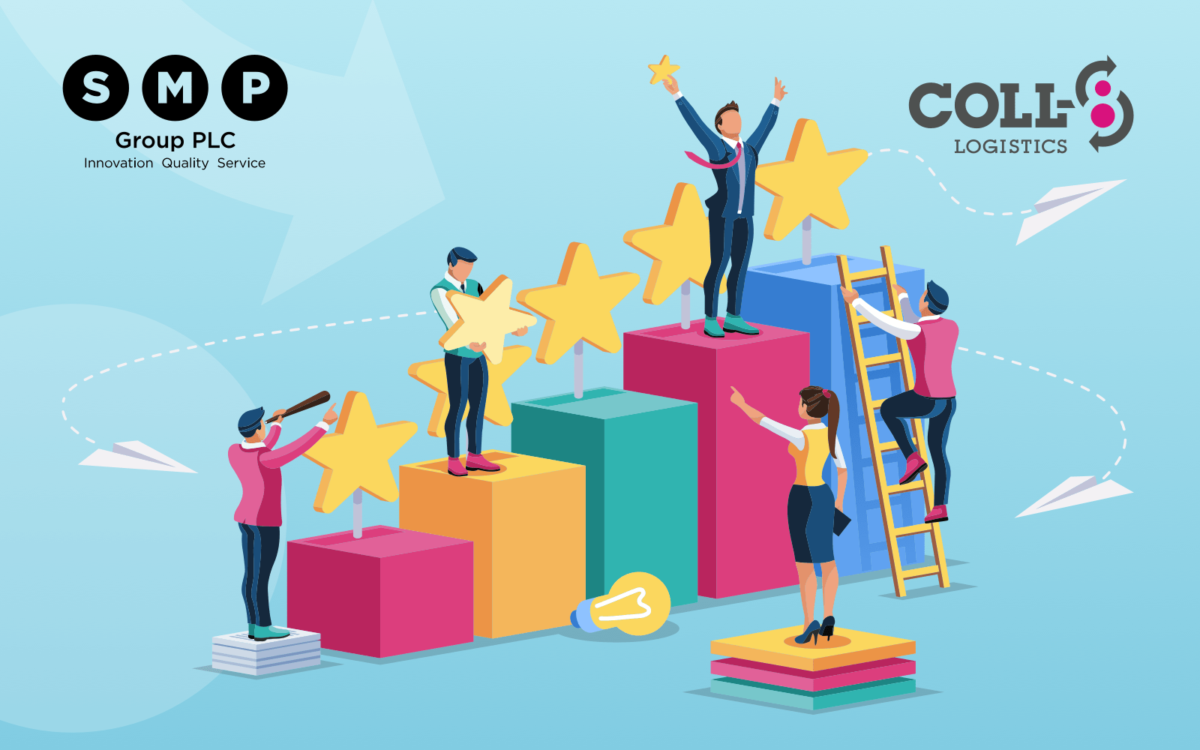 Ireland's most dynamic logistics company has been praised as the very best for shipments to the country by one of its major UK clients.
SMP Group, which is among Britain's leading print and marketing communications specialists, said that it had experienced nothing but "excellent service" since switching to COLL-8 Logistics from another carrier.
COLL-8 became SMP's new logistics partner last year to support its extensive work across the Republic with bookmaker PaddyPower.
SMP's Head of Logistics and Development, Mark Jennings, described how COLL-8 had demonstrated a can-do attitude which was "second-to-none"
"Since we started working together, COLL-8 has been right alongside us and helped us overcome the challenges posed both by Brexit and the Covid pandemic.
"Our own business really is about delivering a quality service and quickly too, so we need partners who won't let us down.
"COLL-8 has made the whole process of shipping to Ireland smooth and seamless, no matter how unusual or last-minute our requests may have been.
"They have always enabled us to get our projects over the line and to achieve our customers' deadlines and, because of that, we receive really positive feedback every time.
"As a result, we highly recommend COLL-8. We really cannot think of anyone better to provide customs clearance and delivery services into Ireland."
Founded in 1928, SMP is one of the UK's most respected suppliers of point of sale (POS) and outdoor marketing materials.
In addition to Paddy Power, its clients include major national and international fashion, retail, electronic and automotive brands, such as Samsung, Waitrose, H&M and Porsche.
A year after its launch in 2019, Coll-8 Logistics announced a partnership to roll out its innovative e-commerce delivery and returns platform drop2shop.
drop2shop has since won the Client and Supplier Achievement prize at the Irish Logistics and Transport Awards following its roll-out across Ireland's largest network of convenience stores, including those within the Spar, Mace, XL and Londis chains.
drop2shop is currently available to more than 500 online retailers, including leading brands in the UK and further afield.
An automated customs clearance system created in-house has also seen strong growth in volumes.
By the end of last year, the service was handling more than 32,000 declarations a day – 10 per cent of all such processes recorded by the Irish customs service.
Commercial Director Dean Lycett explained that a significant proportion of the company's work had come from UK businesses struggling to deal with the extra paperwork generated by Brexit.
However, he pointed out some had originated with logistics industry peers who recognised that the COLL-8 platform was "more effective and more efficient than anything else available" for dealing with Irish e-commerce imports.
Mr Lycett said that COLL-8's support for SMP amounted to a blend of "experience, capability and common sense".
"What we have been able to do is ensure both a swift shipment to Ireland and a fast customs clearance using the Temporary Storage Facility (TSF) at our Baldonnell depot which avoids goods being held up on arrival in the Republic.
"From there, it's about providing a tailored, flexible final mile solution. Because it's entirely automated, it's not only quick but easy to spot and deal with any issues which might arise without delay.
"We're fully aware that our clients have clients of their own and know just how important it is to protect their reputation.
"That's why it's so heartening to see our work with SMP going so well. Long may it continue!"